Nobody likes a loser, (apparently) especially sponsors. According to Rick Hawn (Pictured), one of the companies who committed to paying him to plaster their logo on his gear in last Thursday's title fight against Bellator lightweight champ Michael Chandler is now reneging on their promise because they weren't satisfied with Hawn's losing performance.
Hawn took to his Twitter to alert the world of his predicament. However, he didn't mention the sponsor by name nor how much they stiffed him for.
Here's what Hawn revealed Tuesday morning:
So one of my main sponsors from my fight canceled his check cuz he wasnt happy with the outcome or my performance. Read his explanations below:

"At this point, a stop payment has been placed on check which cannot be cashed or deposited now"

"I will not comment on Rick and his fight. That is not my place. But what I will tell you is this: I took a huge chance with him. TV exposure was great…but it only holds weight if he wins or puts on a good show. Neither happened. At the end of the day…not one sole (sp) will run to [my] store and buy product because they [saw my logo and saw] Rick loose (sp) the fight. I've made it my career and business to know what nets a return on investment for the brand…and this is the number 1 reason why I DO NOT hand out money or product to fighters."

Its funny how all my pics wearing his product are still up on his company pages even after he says and does all this stuff!!

A lawsuit is pending so I cannot comment on who it is just yet but stay tuned.
This is the banner Hawn had hanging behind him last week, so the culprit is one of these companies: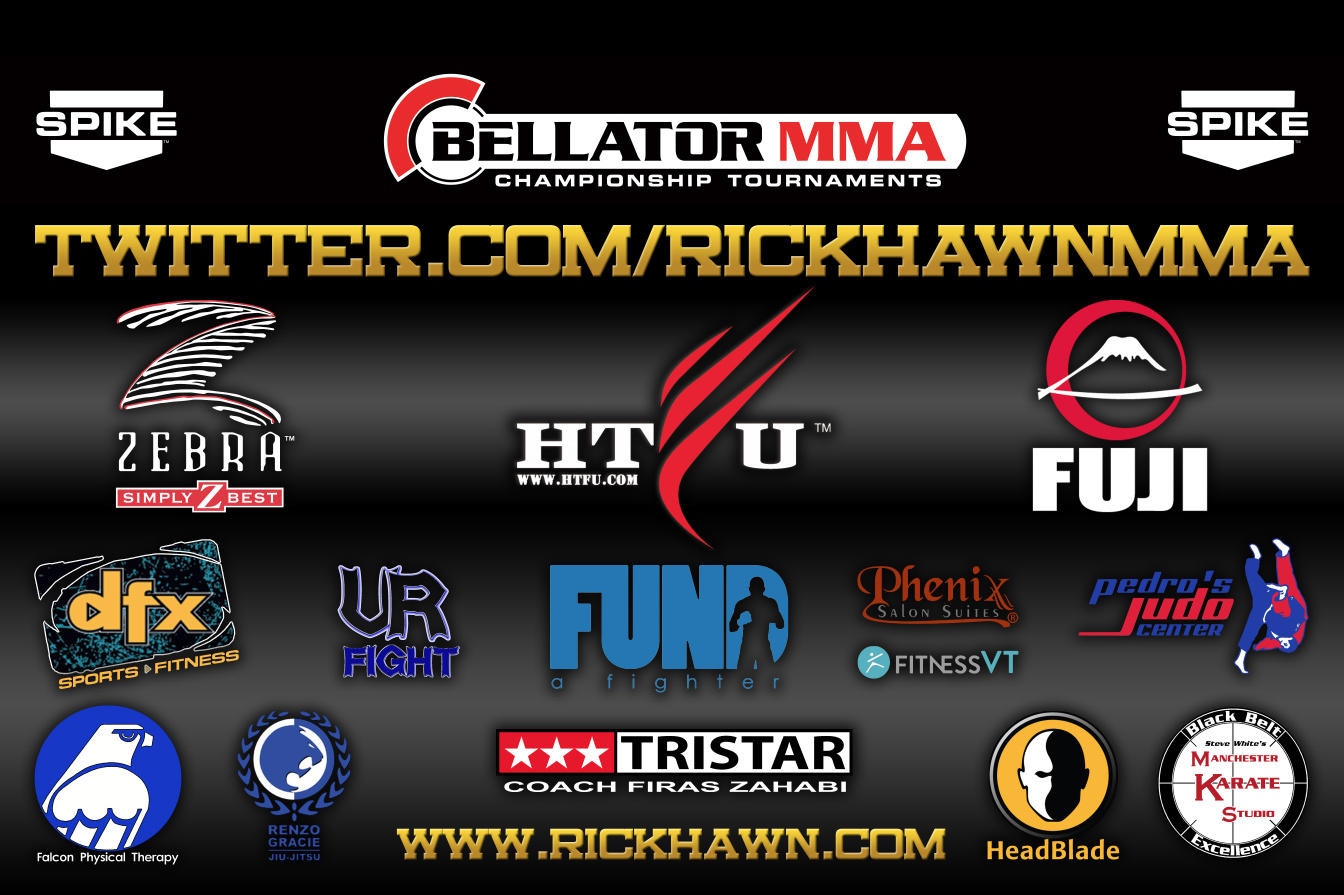 Hawn ran through Bellator's Season 6 Lightweight Tournament to earn next dibs at the crown. Chandler submitted him in the 2ndRound with a rear-naked choke last Thursday in Irvine, California.
UPDATED (1/22/13 at 1:10PM PT):
MMAFighting has confirmed HTFU is the sponsor who refused to pay Hawn $1,500. However, they have reissued payment claiming they canceled the first check due to "miscommunication." HTFU was upset Hawn's cornermen weren't wearing the shirts they sent him during his fight, not because he lost or put on a poor performance. They added that Hawn only posted parts of the email they sent him yesterday.